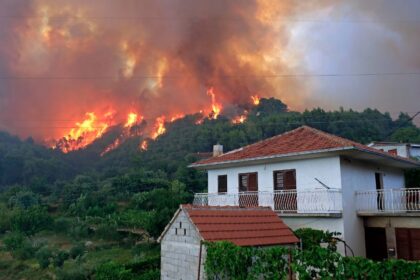 Living in a high-risk zone for wildfires with dry land and natural debris can be exceptionally dangerous. Not every homeowner will want to relocate, so there are a few things you need to know about the dangers of fire embers and how they contribute to wildfires. Once you have a basic awareness, you can begin taking steps to protect your property.
The Dangers of Fire Embers
Embers pose a significant risk to communities and nature-dense areas. While they seem harmless and small, embers contribute greatly to wildfire spread due to their extreme heat levels. Given the right conditions, time, and space, embers can not only reignite an almost finished fire but create an uncontrollable spread. This leaves fire rescue teams in unpredictable circumstances as they attempt to put out and contain wildfires.
How Embers and Wildfires Work Together
In the right amounts, embers can fuel a wildfire and ignite its spread. Critical elements such as oxygen, fuel, and heat all come together to create a fire, and embers generally provide heat and act as fuel.
Embers move in irregular, spark-like patterns, and this creates chaos for fire rescue teams and homeowners. The second embers make their way into an attic, structure, or on land, homes can burn from the inside out or cause the fire to spread to an exterior zone.
Home Zones at Increased Risk of Damage
One of the best ways to combat ember-related damage and wildfire spread is to understand the proper zoning demands on structures. Additionally, the interior and exterior features of a structure lend a hand in ember-ignited fire risks.
The zoning divisions are divided into three categories: extended, intermediate, and immediate. These relate to the total distance of a home or structure in relation to the ember or wildfire. These zones typically include things such as landscaping, lawn and patio accessories, brush, debris, and general home structure.
Immediate is the space within five feet of a home. Anything within this zone puts the home at increased risk of attracting embers.
Intermediate is the exterior space within 30 feet of a home. Generally, this will include all patio or porch features and landscaping elements.
Extended zones are the areas within 200 feet of a home, and this includes shrubs, trees, and any other outdoor debris. This area, in particular, is usually a wildfire's first interaction and provides the fuel to spread.
Your property's zones are your lines of defense against rapid ember ignition and wildfire spread. Equipping your home with fireproof attic vents can prevent ember-related damages and intrusion.
To learn more about the dangers of fire embers and associated risks, partner with Vulcan Technologies. We feature ASTM-certified home ventilation systems designed to protect your family and home.