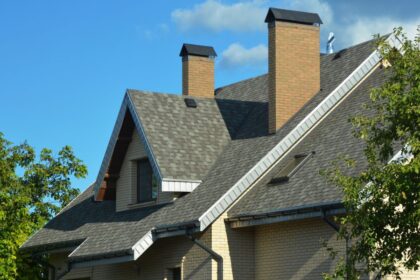 Fires can be devasting to both property and human lives. When building a home in an area known for wildfires, it's crucial to take the steps necessary to shield that home from fire. These five helpful tips for building a fire-resistant home can help builders create homes that are sturdy, fire resistant, and most importantly, safe.
1. Use Fire-Resistant Materials
Avoid materials that are susceptible to fire, such as untreated wood. Instead, use material with proven fire-resistance: concrete, brick, fire-rated glass, steel, gypsum, etc.
2. Armor up the Roof, Siding, & Windows
The roof, siding, and windows are the home's main line of defense against fires; you don't want these to fail! Make these components of the home sturdy. For siding, choose materials like stucco, stone, and brick. For roofs, go with Class A fire-rated materials like metal, concrete, slate, and tiling applied over a fire-resistant cap sheet. Finally, use double-glazed tempered glass for the windows. Double glazed windows take twice as long to shatter under fire's pressure. Additionally, steel and aluminum frames fare best against flames.
3. A Fireproof Layout
A strategic layout won't keep a wildfire away, but it can slow its advance, giving first responders time to act. Keep homes off inclines, if you can, as fires tend to move more quickly uphill than downward or flat across a plain. Additionally, use fire retardant plants and fencing materials to slow the fire's growth. You should also consider building a big, wide driveway that makes it easy for first responders to maneuver their trucks and freely access their equipment.
4. Limit Combustible Outdoor Elements
A wood deck and plants galore may make a home exterior more appealing, but they also make it more vulnerable to flames. Another tip for building a fire-resistant home is to limit any outdoor elements that could fuel a fire. Rather than landscaping with plants, use rocks, and try concrete for that deck.
5. Install Fire Rated Vents
Fire-rated vents are designed to close at the first signs of a fire, blocking out embers that can burn homes from the inside out. In some states prone to wildfires, like California, vents that meet the ASTM E 2808/E2886 test standard are required for new construction.
Vulcan Technologie's Vulcan Vent is the only vent that meets the Wildlands Urban Interface (WUI) standards and the 1-hour test standard for home exteriors. These fire-rated vents can save homes—and lives—in the event of a wildfire. Contact us to learn how to create fire-resistant construction that uses Vulcan Vents.